There is a more sustainable and green alternative to Black Friday: "Green Friday"
It's 'seasonBlack Friday'. Where the consumerism unnecessary of the most 'scandalous' offers of the date are only a few days away. We see the increasing burden of advertising offers everywhere. They induce us to buy even what we do not need and we get carried away for the moment. Is it necessary to take on all that the market offers us?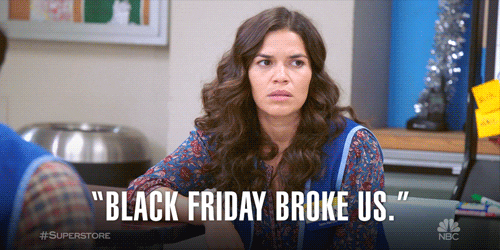 Let's put a stop. Breathe. Think. What are we doing? We have the facility that with a single click we have the power to buy what we want in less than 5 minutes and soon we get that much desired package at the door of our homes. The next thing is to experience a sense of satisfaction and joy by opening that package that we have'self-rated'. But there's something we're not thinking: What impact and consequence do we create with compulsive and excessive purchases? A very simple answer: increased emissions of carbon dioxide generated by the increase in transportation and we generate a greater amount of plastic waste. 
'Don't buy it if you won't need it'
In this phenomenon is called "consumerism" . Buying on impulse without thinking about 'what for' is disastrous for our environment: the climate change and the pollution our environment is proof of that. Here there are two players who play important roles: businesses and consumers. We as a responsible and ecological company are based on a circular economy and being our philosophy to publicize our community alternatives sustainable(with our planet) to the use of materials plastics, we propose something: 'don't buy it if you don't need it.' Although, it is a good opportunity to purchase that product you wanted so much at a lower price, well congratulations! It is here that the consumer should put his side and think of a responsible purchase and if you really need this product.
The important thing is to find the balance through more products responsible with the planet in a conscious act of purchase.
Wonderful, they add up more!
The excellent news is that, there is a movement as a wake-up call to society catalogued as# Green Friaday. In this version Eco of Black Friday, participate more than 400 national companies dedicated to the responsible production and sustainable sale of fashion items, accessories, decoration and cosmetics, adapting to the current situation, offering attractive offers in order to enhance the responsible consumption and turn this date around. Thus, consumers know that they have sustainable purchasing options and their purchases will be responsible.
Do you dress up

green

or black?
If you're still thinking about it, here are some clues:
Do not buy anything this day, in the Green Friday forget about consuming by consuming and buying unnecessary things. Take advantage of this day to walk, meet friends, organize a dinner at home…

If you buy, make it to responsible and sustainable brands that offer products that are respectful towards people and the environment. Take the opportunity to buy what you need and discover new brands committed.
#Brushboo it is one of more than 400 brands in Spain participating in this day dedicated to consumption aware and responsible.
The main objective of
Brushboo
is to help reduce the consumption of plastic material and be the alternative to traditional plastic products (which have a low level of recyclability). We are your alternative eco and we encourage you to only buy what you need in a conscious and sustainable way.
Our products help you and your planet, we strive to inspire people to use 100% organic and biodegradable products. Brushing your teeth is the first thing you do in the morning and the last thing before bedtime. Do it ecologically with our brush moso bamboo rapid growth against deforestation!
10% of the benefits of Brushboo they are dedicated to Plant for the Planet in reforestation projects.
With our products you help the planet! The b

astoncillos biodegradable

of

bamboo

, cotton

organic

and

respectful packaging

with the environment, straws

of

bamboo

be

100% organic, without BPA, biodegradable, reusable

and handmade with love. The

dental floss eco it is made with bamboo charcoal fibers, mint essential oils and an eco-friendly packaging. These products have been designed with the aim of reducing the impact on the environment. Brushes and thread help clean and whiten your teeth leaving a mint freshness in your mouth. The container is designed so that it can be reused! Like a salt shaker! And the Thermo-bottle

recently released for the

Green Friday, is 100% coated with bamboo natural, stainless steel interior, free of BPA and lead FDA 100%.

What are you waiting for and join the community

Echo!

Be

sustainable

with the planet and with ourselves cool

.

On Friday the 29th we invite you to be part of the change and celebrate the
'Small facts, big changes'
Leave a comment